Halloween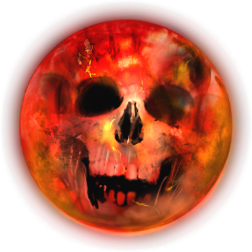 Once a year, Mad King Thorn and his creepy cohorts visit the land of mortals for a spooky celebration with holiday quests, Costume Brawl PvP, Halloween-themed guild vs. guild battles, as well as plenty of other tricks and treats! The frightening festivities begin at 12:00 p.m. Pacific (GMT -7) on October 18 and run until 12:00 p.m. on November 2. The main events take place in Lion's Arch and Kamadan, but you'll find Halloween décor in outposts all over Tyria.
Calendar of Events
October 18: The Halloween celebration begins at 12:00 p.m. The mood will be set with eerie decorations in Lion's Arch, Kamadan, Droknar's Forge, and the Tomb of the Primeval Kings. Plus, the Costume Brawl starts today! Halloween quests are available in Lion's Arch and Kamadan. Pit your skill against the Lunatic Court, delve into the Underworld to take on Dhuum with your allies, or embark on a classic Halloween quest from holidays gone by. Speak with the Mad King's Steward to begin your adventure!
October 31: Starting at 12:01 a.m., Mad King Thorn appears every three hours in Lion's Arch and Kamadan. Participants in the Mad King's games will receive holiday treats. The better you follow directions, the sweeter the treats will be!
November 2: The seasonal festivities conclude at 12:01 a.m.
More spooky details about the Halloween festivities are on the Guild Wars Wiki!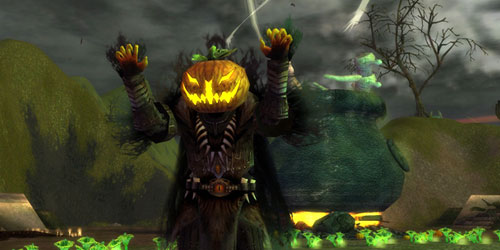 Halloween Accessories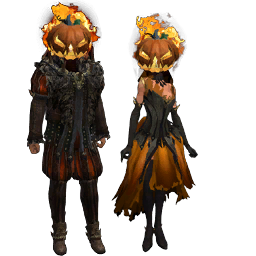 Each Halloween, you'll be able to acquire a Ghoulish Accessory Token that can be exchanged for a hat suitable to the occasion or a tonic that will make you the afterlife of any party! Speak with either Gul Terror in Lion's Arch, or Malavaka in Kamadan to get started. Aahtan in Kamadan and Erulis in Lion's Arch have been entrusted with the actual hats, and they'll be around till November 8, just to make sure you get your prize.
Halloween Costumes
Capture the gloom and glamour of Halloween by dressing up in costume. The Raiment of the Lich, Lunatic Court Finery, Vale Wraith, and Ravenheart Witchwear costumes are just a few of the costumes available from the Guild Wars store on the web and in-game.