Become a Legend
In a world torn by conflict, where human kingdoms are all but destroyed and guilds sacrifice all for a chance to control the Hall of Heroes, a champion must rise from the ruins of a once-proud land to lead refugees from the ashes and fulfill an ancient prophecy. Will that hero be you?

Experience the game that has captivated millions of gamers worldwide. Guild Wars® is an online roleplaying game that rewards player skill and innovative gameplay. It's the original smash hit release from developer ArenaNet®, the beginnings of a franchise played by almost four million gamers worldwide.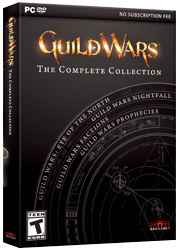 BUY the GAME
---
April 10 - April 17
Sweet Treats Week is upon us, which means it's time to load up on springtime goodies. Chocolate Bunnies and Golden Eggs will be randomly mixed in with regular drops all across Tyria. Get hopping!
Upcoming Events